This has got to be the worst experience I have ever had with any software!!! I Never had anything like this with CURA nor using octoprint. I wanted an all in one remote slicing, printing and view solution for my printer and thought this would be a good option. At first I did not go with 3DprinterOS since they did not offer support the Raspi Camera. When it was announced they did now I jumped at the chance to try it.
When using it at first i noticed it was not slicing,or something correctly and it took many tries of reslicing to get it working.
I was able to print one small test item successfully after slicing 4 times. I decided it was time to try a large STL and settled on the stupid duck that is offered as a test.
After trying many times it would not start properly and would heavily extrude ABS during brim process. So after a few failed attempts I decided stop and give it a break for the night. I was going to swap back to OCTOPRINT since it never messed up.
When I was leaving for work this morning i walked out and found this !!! Keep in mind i did not have a print running when I went to bed. It did this on its own!
This is a WHOLE almost NEW SPOOL OF ABS. The Z access is twisted, the Z motor is most likely destroyed and one of the set screws for the Z axis is now stripped! The plastic is completely hardened around the hotend and will have to be cut off. Most likely the hotend will need replacing also!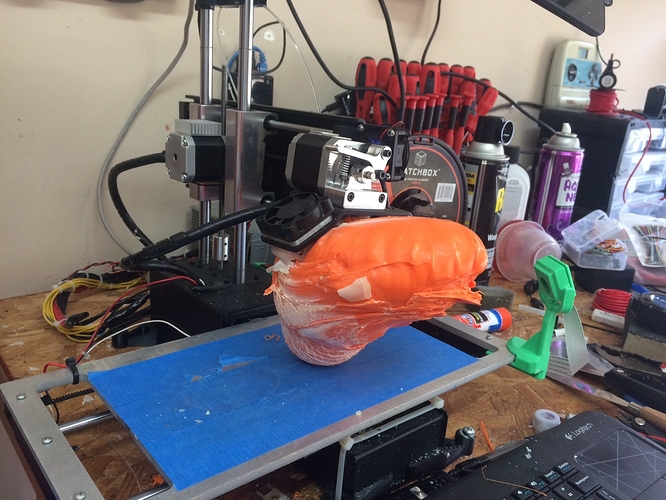 Please do not waste the investment of your printer and run the risk of $$$$$ damages on this POS software!