Greetings Folks,
Here is a simple walkthrough on how to share your printers "queue" to win a free roll of PLA from 3DPrinterOS.
Step 1: Navigate to the "Printers" tab and click the "Share" button to share your printers queue privileges with aaron@3dprinteros.com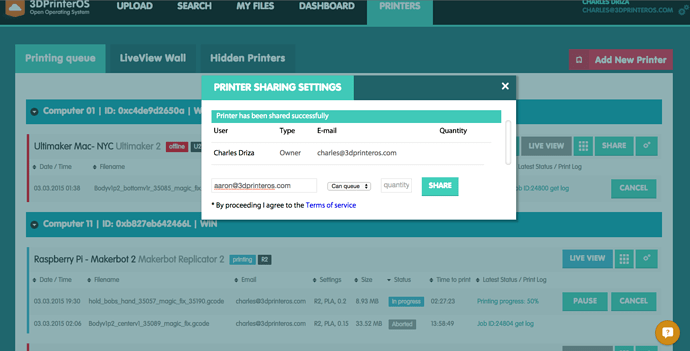 Step 2: Aaron will then send a file to your printers queue. Navigate to your printer tab once again and you should see a g-code waiting in queue for you to print.

Step 3: Simply press "Print" and your 12 minute duck should be on it's way to your printer.
Step 4: When the print is complete email us a picture of your completed duck and will will send you a free roll of PLA! You can also share your print socially @3DprinterOS.
Video walkthrough of sharing your printer:

Once 20 users have claimed their free rolls we will take this post down so if you can still see this, the contest is still active!
If you have any questions, please let us know via the messenger in 3DPrinterOS or by emailing Aaron directly.